TabView Organizer is a Microsoft Outlook add-on solution for easy, smart and flexible sorting out of emails, tasks, contacts and other items. TabView Organizer software provides a possibility to narrow down the search within Personal folders by applying filters, which can overlap. Take advantage of TabView Organizer as a tool, capable of finding all needed items in only a few clicks. If you are looking for means to save your valuable time, this software program is for you.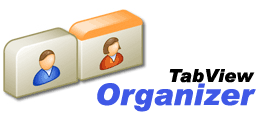 ©2005 4Team Corporation, All rights reserved
We would like to extend a special "thank you" to many customers in the USA, United Kingdom, Australia, Belgium, Germany, Switzerland, France, Singapore, and other countries that implemented our program for their everyday business needs: from personal and family use to Medical and Law Offices, Religious Services, technology or software production companies.

TabView Organizer website